Cary News and Info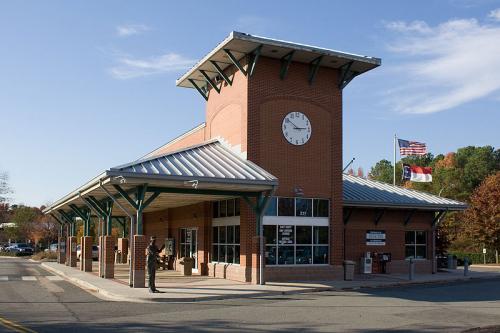 If you are in need of a Cary home inspector we can serve all your home inspection needs.
A brief history on Cary: Today's Cary began in 1750 as a settlement called Bradford's Ordinary. About 100 years later, the construction of the North Carolina Railroad between New Bern and Hillsborough placed Bradford's Ordinary on a major transportation route. Allison Francis "Frank" Page is credited with founding the town. Page was a Wake County farmer and lumberman. He and his wife, Catherine "Kate" Raboteau Page bought 300 acres (1.2 km2) surrounding the railroad junction in 1854 and named his development Cary after Samuel Fenton Cary (a former Ohio congressman and prohibitionist he admired). Page became a railroad agent and a town developer. He laid out the first streets in Cary and built a sawmill, a general store and a post office (Page became the first Postmaster). In 1868, Page built a hotel to serve railroad passengers coming through Cary. Cary was incorporated on April 6, 1871, with Page becoming the first mayor. In 1879, the Raleigh and Augusta Air-Line Railroad (later the Seaboard, now CSX Transportation) arrived in Cary from the southwest, creating Fetner Junction just north of downtown and spurring further growth. In the early years Cary adopted zoning and other ordinances on an ad-hoc basis to control growth and give the town structure. Beginning in 1971, the town created a Planned Unit Development (PUD) zoning to accommodate population growth related to the growth of Research Triangle Park nearby. A PUD allows a developer to plan an entire community before beginning development, thus allowing future residents to be aware of where churches, schools, commercial and industrial areas will be located well before such use begins. Kildaire Farms, a 967-acre (3.9 km2) Planned Unit Development in Cary was North Carolina's first PUD. It was developed on the Pine State Dairy Farm by Thomas F. Adams, Jr. Adams named a section of Kildaire Farms "Farmington Woods" in their honor. The local government has placed a high value on creating an aesthetically pleasing town. Cary is one of the safest cities in the country and has one of the highest median incomes in the state.
Cary Restaurants
Cary Attractions
Cary Athletics
We provide home inspections in Cary and the surrounding areas.